Get the right experience for you. Please select your location and investor type.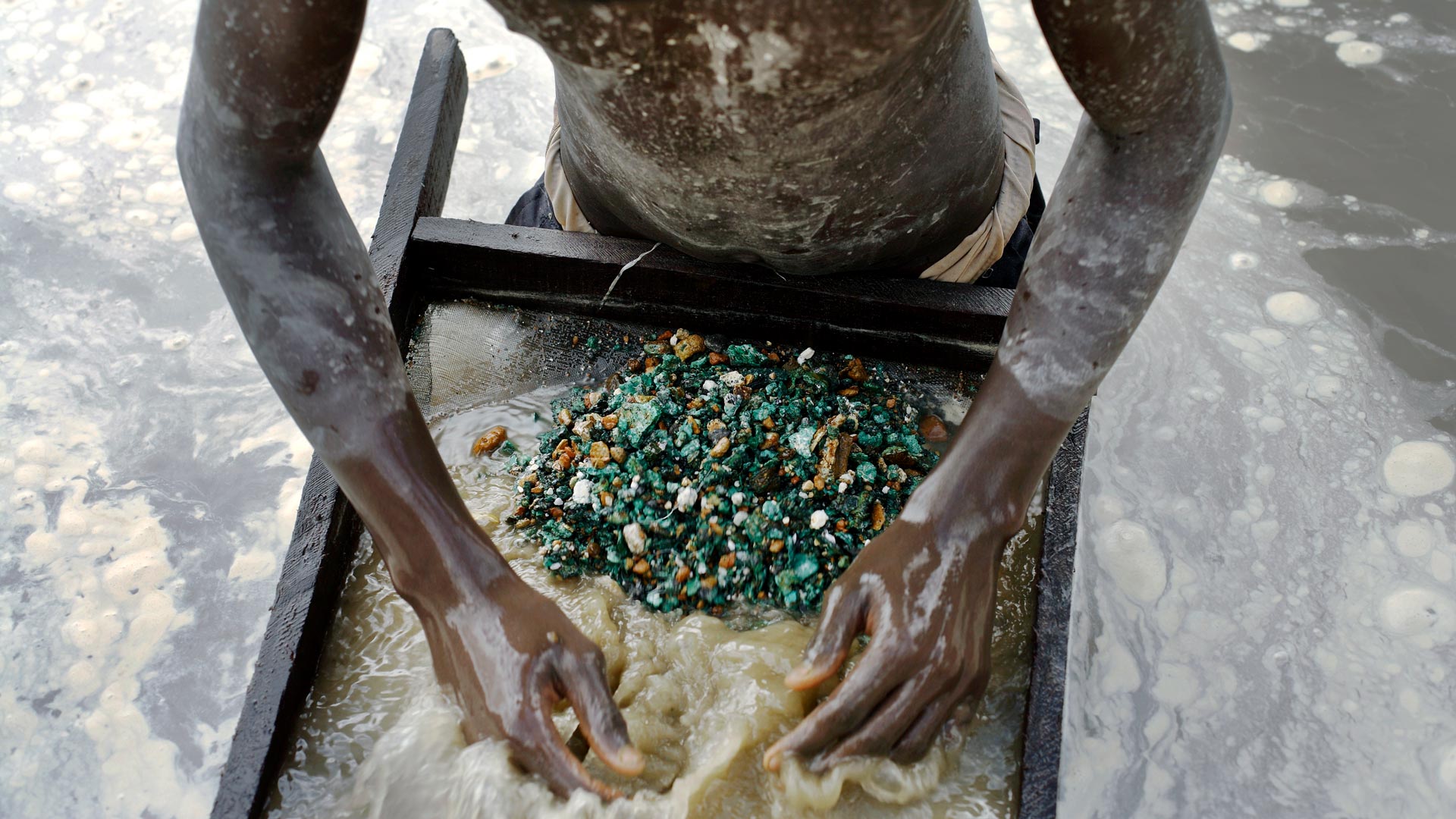 Beyond Due Diligence: A multi-stakeholder approach to responsible mineral sourcing
An insight into our collaborative engagement on conflict minerals in the semiconductor supply chain.
The production of everything from our personal electronics to the green technologies helping the transition to a lower carbon future rely on a number of key ingredients; tin, tantalum, tungsten, cobalt and gold. These minerals, collectively known as "conflict minerals" derive their name from the fact they are mined predominantly in fragile regions, vulnerable to political instability and violence, including sub-Saharan Africa, Southeast Asia, and South America. 
The African Great Lakes region, and specifically countries including the Democratic Republic of the Congo (DRC), Rwanda, and Burundi, have significant reserves of these minerals. In fact the DRC has almost half of the world's total reserves of Cobalt at an estimated four million metric tons1. Together with Rwanda, the DRC also produces nearly half the world's coltan, from which tantalum is derived, as well as a significant share of global tin and tungsten ores. These minerals are known to be extracted from areas where armed groups and criminal networks vie for control, which has led to exploitation, violence, forced labour, and extrajudicial killings.
The issue of conflict minerals first received international attention in 2010 with the introduction of the U.S. Dodd-Frank Wall Street Reform and Consumer Protection Act, which required companies to determine the source of these minerals and disclose. Despite the implementation of such due diligence measures, according to a recent report by Global Witness, "tainted minerals" continue to enter international supply chains, contributing to violence and child exploitation in the DRC.
Artisanal mining, which is often informal and unregulated, is common in the DRC and it is a source of livelihood for many, particularly people living in rural areas where alternative employment is limited. Of the 2 million people actively involved in mining in the DRC, an estimated 250,000 of these are classed as artisanal miners. These workers, which estimates include up to 40,000 children, are often exposed to violence and exploitation, forced to work in unsupported and unventilated pits with no more than basic hand tools. Injuries, collapse and deaths are common. The electronics industry, which relies heavily on these minerals, has come under increasing scrutiny in recent years for allegedly turning a blind eye to these human rights abuses, as well as the environmental impacts associated with the sourcing of these minerals.2
The DRC is the world's largest producer of cobalt, accounting for over 70% of global production. Whilst some manufacturers have implemented due diligence measures and established certification schemes, it is still challenging to ensure that minerals sourced from conflict-affected areas do not enter global supply chains, not least because these minerals pass through multiple intermediaries before reaching their final destinations.
China is the world's largest consumer of the majority of the minerals produced in the DRC, including cobalt, copper and coltan, and despite being a signatory to the Organisation for Economic Co-operation and Development's (OECD) Due Diligence Guidance, has faced criticism for its lack of transparency and oversight. Chinese owned companies also account for a significant proportion of the smelters and refineries that process these minerals, in fact China's share of the global production of these critical materials has become overwhelmingly dominant, at more than 80% for tungsten and roughly 90% for antimony3. According to the Responsible Minerals Initiative (RMI) an estimated 90% of the cobalt that enters the markets is refined by Chinese SORs which only adds to the difficulties of traceability4.
In addition to addressing the significant human cost, responsible mineral sourcing is also crucial for reducing the environmental impacts of mining.  The extraction and processing of minerals and metals can have significant environmental impacts, including deforestation, water pollution from the use of toxic chemicals including mercury and cyanide, and greenhouse gas emissions.
Due to their reliance on lithium-ion batteries, many green technologies such as electric vehicles and renewable energy systems also rely heavily on these minerals and other rare earth elements. While these technologies offer significant benefits in terms of reducing greenhouse gas emissions and combating climate change, it is important to ensure that their production does not come at the expense of environmental protection and human rights.
Whilst efforts have been made to ensure that global mineral supply chains are free from conflict minerals, there are still significant challenges in ensuring that minerals sourced from conflict-affected areas do not enter global supply chains. It is clear that the mining and production of these minerals continues to come at a significant human and environmental costs, particularly in conflict-affected areas like the DRC.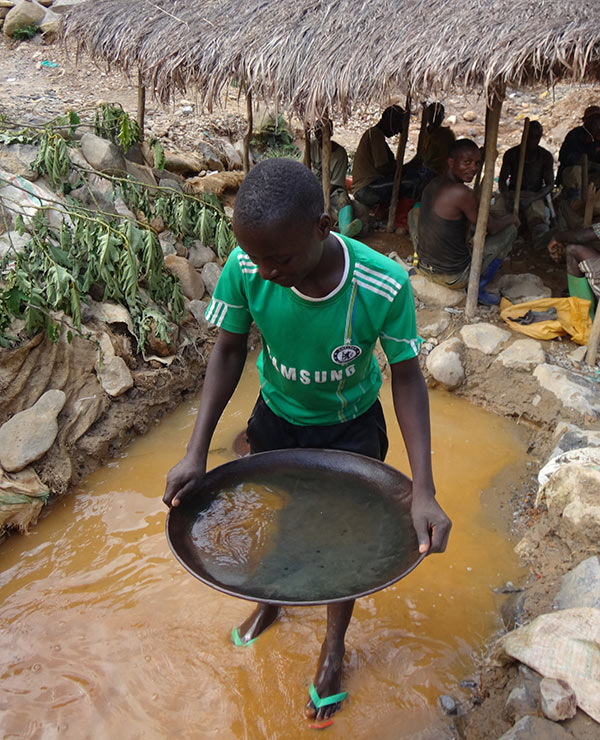 As investors, consumers and citizens, we all have a role to play. Addressing this problem will require a coordinated effort from all stakeholders and improving transparency in the supply chain is a critical first step. In response, at the end of 2021 we launched the collaborative engagement: Tackling conflict mineral content in the semiconductor supply chain. This initiative was supported by 160 signatories amounting to US$6.59 trillion of assets. Since then it continues to attract more interest from a number of large financial institutions.

The demand for minerals and metals used in electronics and green technologies is growing rapidly, however, addressing the root causes of the problem will also require a long-term commitment to promoting sustainable development in the DRC and surrounding countries. This includes investing in infrastructure, education, and healthcare, and supporting responsible mining practices that prioritise the well-being of workers and the environment. 
Subscribe to our updates
To get regular updates and content from Stewart Investors, please register here.
Important information
This material is for general information purposes only. It does not constitute investment or financial advice and does not take into account any specific investment objectives, financial situation or needs. This is not an offer to provide asset management services, is not a recommendation or an offer or solicitation to buy, hold or sell any security or to execute any agreement for portfolio management or investment advisory services and this material has not been prepared in connection with any such offer. Before making any investment decision you should consider, with the assistance of a financial advisor, your individual investment needs, objectives and financial situation.
We have taken reasonable care to ensure that this material is accurate, current, and complete and fit for its intended purpose and audience as at the date of publication. To the extent this material contains any measurements or data related to environmental, social and governance (ESG) factors, these measurements or data are estimates based on information sourced by the relevant investment team from third parties including portfolio companies and such information may ultimately prove to be inaccurate. No assurance is given or liability accepted regarding the accuracy, validity or completeness of this material and we do not undertake to update it in future if circumstances change.
To the extent this material contains any expression of opinion or forward-looking statements, such opinions and statements are based on assumptions, matters and sources believed to be true and reliable at the time of publication only. This material reflects the views of the individual writers only. Those views may change, may not prove to be valid and may not reflect the views of everyone at First Sentier Investors.
To the extent this material contains any ESG related commitments or targets, such commitments or targets are current as at the date of publication and have been formulated by the relevant investment team in accordance with either internally developed proprietary frameworks or are otherwise based on the Institutional Investors Group on Climate Change (IIGCC) Paris Aligned Investment Initiative framework. The commitments and targets are based on information and representations made to the relevant investment teams by portfolio companies (which may ultimately prove not be accurate), together with assumptions made by the relevant investment team in relation to future matters such as government policy implementation in ESG and other climate-related areas, enhanced future technology and the actions of portfolio companies (all of which are subject to change over time). As such, achievement of these commitments and targets depend on the ongoing accuracy of such information and representations as well as the realisation of such future matters. Any commitments and targets set out in this material are continuously reviewed by the relevant investment teams and subject to change without notice.
About First Sentier Investors
References to 'we', 'us' or 'our' are references to First Sentier Investors, a global asset management business which is ultimately owned by Mitsubishi UFJ Financial Group. Certain of our investment teams operate under the trading names FSSA Investment Managers, Stewart Investors, Realindex Investments and Igneo Infrastructure Partners, all of which are part of the First Sentier Investors group.
We communicate and conduct business through different legal entities in different locations. This material is communicated in:
Australia and New Zealand by First Sentier Investors (Australia) IM Ltd, authorised and regulated in Australia by the Australian Securities and Investments Commission (AFSL 289017; ABN 89 114 194311)
European Economic Area by First Sentier Investors (Ireland) Limited, authorised and regulated in Ireland by the Central Bank of Ireland (CBI reg no. C182306; reg office 70 Sir John Rogerson's Quay, Dublin 2, Ireland; reg company no. 629188)

Hong Kong by First Sentier Investors (Hong Kong) Limited and has not been reviewed by the Securities & Futures Commission in Hong Kong. First Sentier Investors, FSSA Investment Managers, Stewart Investors, Realindex Investments and Igneo Infrastructure Partners are the business names of First Sentier Investors (Hong Kong) Limited.

Singapore by First Sentier Investors (Singapore) (reg company no. 196900420D) and this advertisement or material has not been reviewed by the Monetary Authority of Singapore. First Sentier Investors (registration number 53236800B), FSSA Investment Managers (registration number 53314080C), Stewart Investors (registration number 53310114W), Realindex Investments (registration number 53472532E) and Igneo Infrastructure Partners (registration number 53447928J) are the business divisions of First Sentier Investors (Singapore).

Japan by First Sentier Investors (Japan) Limited, authorised and regulated by the Financial Service Agency (Director of Kanto Local Finance Bureau (Registered Financial Institutions) No.2611)

United Kingdom by First Sentier Investors (UK) Funds Limited, authorised and regulated by the Financial Conduct Authority (reg. no. 2294743; reg office Finsbury Circus House, 15 Finsbury Circus, London EC2M 7EB)
United States by First Sentier Investors (US) LLC, authorised and regulated by the Securities Exchange Commission (RIA 801-93167)

other jurisdictions, where this document may lawfully be issued, by First Sentier Investors International IM Limited, authorised and regulated in the UK by the Financial Conduct Authority (FCA ref no. 122512; Registered office: 23 St. Andrew Square, Edinburgh, EH2 1BB; Company no. SC079063).
To the extent permitted by law, MUFG and its subsidiaries are not liable for any loss or damage as a result of reliance on any statement or information contained in this document. Neither MUFG nor any of its subsidiaries guarantee the performance of any investment products referred to in this document or the repayment of capital. Any investments referred to are not deposits or other liabilities of MUFG or its subsidiaries, and are subject to investment risk, including loss of income and capital invested
© First Sentier Investors Group